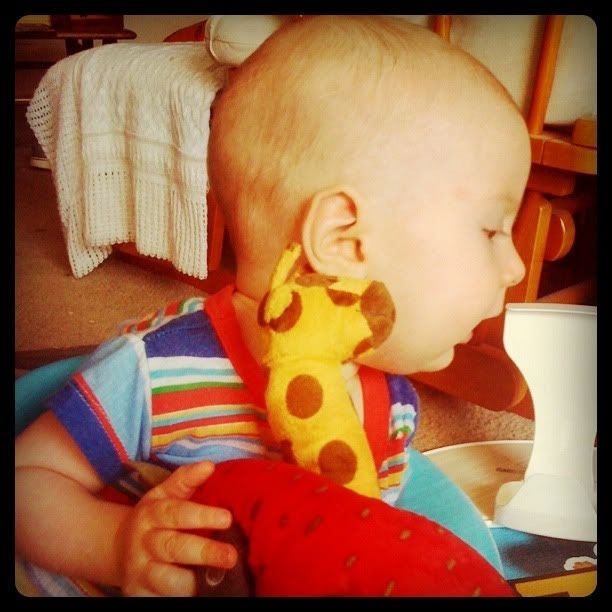 Ack! Wow it's been unusually long since I've posted. I assure you were fine, just had some crappy things happen in the last 2 weeks, including but not limited to, Roseola, Pinkeye, and a very loud, ignorant new neighbor. I've had to call the cops 6 times, the apt manager 5 times, the police station, and finally had to go down to the court house in person to fil complaint/see what we could do. It's been going on for 15 days and I'm exhausted.
Ollie is 25 weeks old and will be 6 months old on Sunday! He has his 6th month checkup on Tuesday, complete with shots, ugh. He's been trying to crawl, talk, and sit up! He hasn't quite grasped sitting on his own though and will lean from side to side. I recently ordered sone new things for him including a new shopping cart cover since ours kinda sucked. I got the JJ Cole shopping cart cover/high chair cover off Amazon with free shipping. I'm pretty excited about it, geeky I know! Today I finally recieved his amber teething necklace I ordered from Green Baby Clothing Co. It's not exactly what I had expected but it's still beautiful and looks great on him! He's already stopped drooling as much! And as I speak I'm bidding on a new carrier, or rather a sling, peanut shell to be exact. I really loathe our carrier, it kills my back and shoulders and I can only wear it for about an hour before I have to take it off. Hope I win! Cross your fingers!
I promise I'll update more often. The last 2 weeks were just...rough ugh.
Have a great weekend!